MATERIAL DATA SHEET: PEKK
Description
Polyetherketoneketone, more often known as PEKK is a semi-crystalline thermoplastic polymer that belongs to the PEAK family. PEAK materials are increasingly used on the additive manufacturing market as they can be recycled and are known for their mechanical and chemical properties.
PEKK was invented in the 1960s as part of the Apollo program. It was then developed and marketed for the first time in 1988 by the company Dupont for the aerospace sector.
Applications
PEKK is a material designed to withstand extreme environments and is therefore often used in aerospace, offshore oil extraction, satellites and submarines. Resistant to high temperatures and pressure, PEKK can also be used for engines.
General material properties
Pressure resistant
Low outgassing rate
High compressive strength
Wear and friction resistant
Non-flammable / does not give off toxic fumes
High abrasion resistance
Outstanding weight/strength ratio
Easier to print with than PEEK
Good dielectric stability: Density: 1.26 g/cm 3
With a lower crystallization rate than PEEK, PEKK is less affected by cooling and will adhere better to the build plate; it is therefore less susceptible to warping (due to the retraction of the thermoplastic on the build surface which leads to partial or total unsticking of the printed part). The mechanical performance of PEKK is, however, slightly inferior to PEEK and it is less suited for use in medical applications.
Mechanical performance
Elongation at break: 5% *1
Tensile strength: 105 MPa *1
Flexural strength: 95MPa *
Flexural modulus: 2680MPa *2
Temperature resistance
Glass transition temperature: : 162°C *3
Melting point: 305°C *3
Heat deflection temperature (under load): 150°C *4 (0,45 MPa)
Chemical resistance
Resistance to chemicals including solvents (benzene, alcohol) and coolants.
Material limitations
Cost: approximately 800€/ kg
Technical material that requires a heated enclosure and build plate
Sensitive to moisture
Material storage

PEKK is a sensitive material to moisture and should therefore be stored in a dry environment at room temperature. It is strongly advised to dry the spool prior to printing and to store it in a hygrometer-monitored storage container (contact Lynxter for further details).
Drying time: 8 – 10h
Drying temperature: 110°C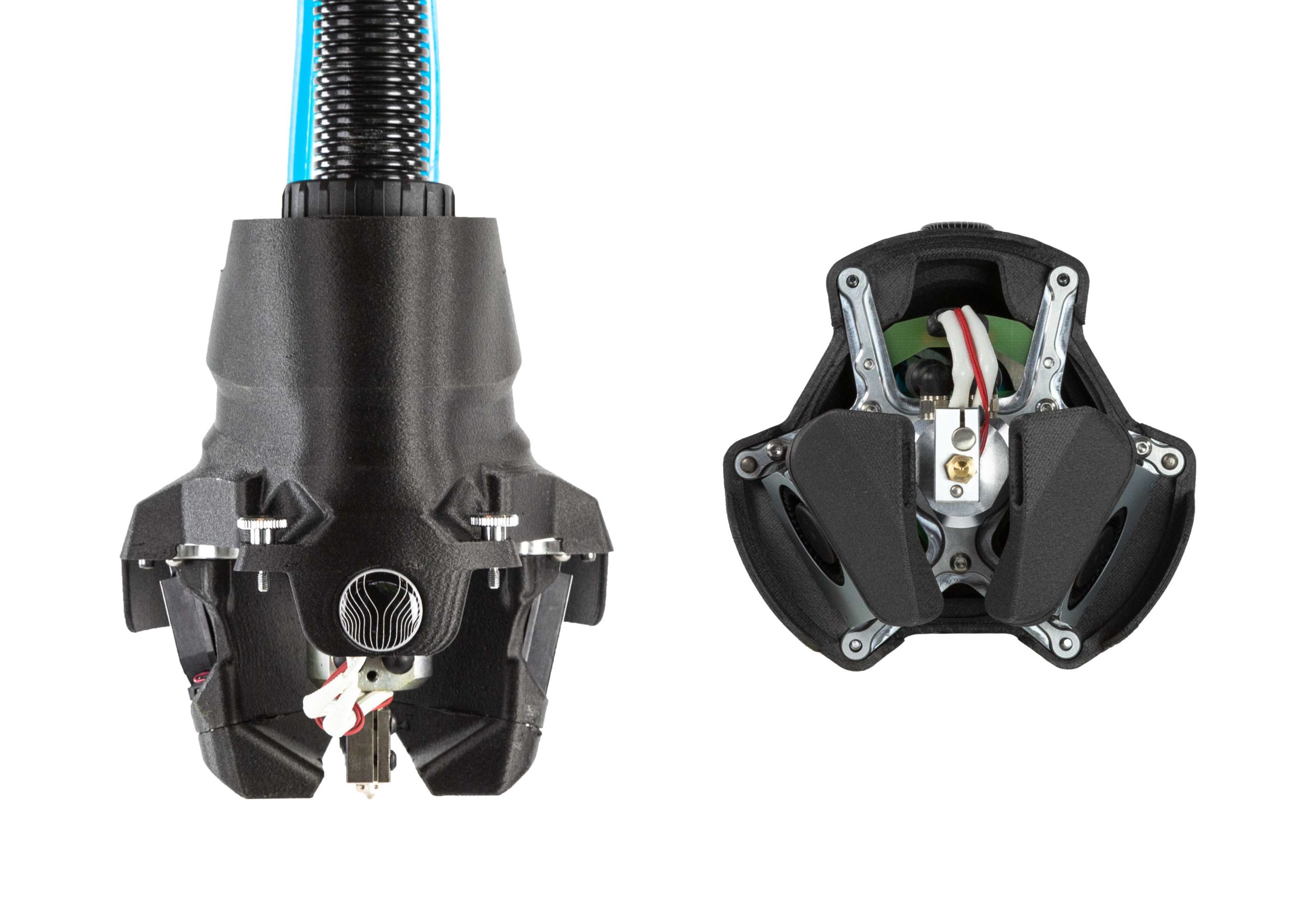 Printability on the S600D
Material bay:
Toolhead:
Build plate:
Build plate adhesive:
Print speed and temperatures:
Nozzle: 345 – 375°C
Build plate: 120 – 140°C
Build chamber: 70 – 150°C
Print speed: 40 –100 mm/s
Compatibility with other materials
Carbon: PEKK can be made stiffer by adding carbon fibers (short or long). Carbon fiber reinforcement further improves the strength to weight ratio of the material.
Required safety precautions
The S600D is equipped with filters (activated carbon and HEPA H14) to remove volatile organic compounds (VOCs) and ultrafine particles (UFPs) from the air. It is nevertheless advised to adhere to general safety guidelines and always print in a well-ventilated workspace.
PEKK VS PEEK
PEKK and PEEK are both part of the PAEK (Polyaryletherketone) family of thermoplastic polymers. PEKK has more ketone bonds, making it more flexible. This lowers the speed of crystallization and modifies glass transition and melting temperature. This is why PEKK is easier to 3D print than PEEK. PEKK has a better visual appearance and better wear and friction properties compared to PEEK.
Available print profile
Profile compatible with 3DXTech PEKK-A:
Printing with FIL11 toolhead:
Nozzle:
Material: nickel-plated
Diameter: 0.4mm
Heater block:
Material: nickel-plated
Layer height: 0.2mm
Recommendations
It is possible to increase the crystallization rate of the material using thermal post processing. This will improve the mechanical resistance of PEKK.