How to reduce the weight of metal parts by 70% with 3D printing
Combine size, lightness, and ultra resistance with PEKK
The weight of a part is an essential and strategic quality in the race for aerospace and automotive performance. Today with 3D printing the possibility of lighting a heavy assembly becomes possible. Discover the work of Lynxter's R&D teams to produce technical and innovative parts: how to increase the performance of an engine part by making it lighter? We will provide details here. In addition to reducing weight, 3D printing allows you to save production cost and time.
Replacing heavy metal parts
Within Lynxter's R&D departments, our teams transfer their know-how on a daily basis in the development of ambitious and innovative applications for different sectors and industries.
Testing new materials creates technological breakthroughs to reduce the limitations of the process. Optimizing the resistance of printed technical parts is an example of their field of study.
For this application, the teams worked on improving the mass of a cast aluminum intake manifold. In order to optimize the weight of this engine assembly, our teams had to rethink its design and composition.
From sketches to STL files
The intake manifold is an engine part used to distribute the airflow for each piston. Starting from the existing one, the additive manufacturing technician Louis Servel redesigned the part in order to create a 3D version of it, initially by sketching it.
The part consists of the main pipe with an isogrid structure wall.
The isogrid is a type of structure composed of integrated triangular stiffening ribs. This design is used in aeronautics and space fields. This creates rigidity through its interplay of ribs: the pipe is very resistant despite a thickness of 2 mm and an expected total weight of only 1.5 kilos. This structure is designed in particular to avoid stress concentrations by redistributing them in a homogeneous manner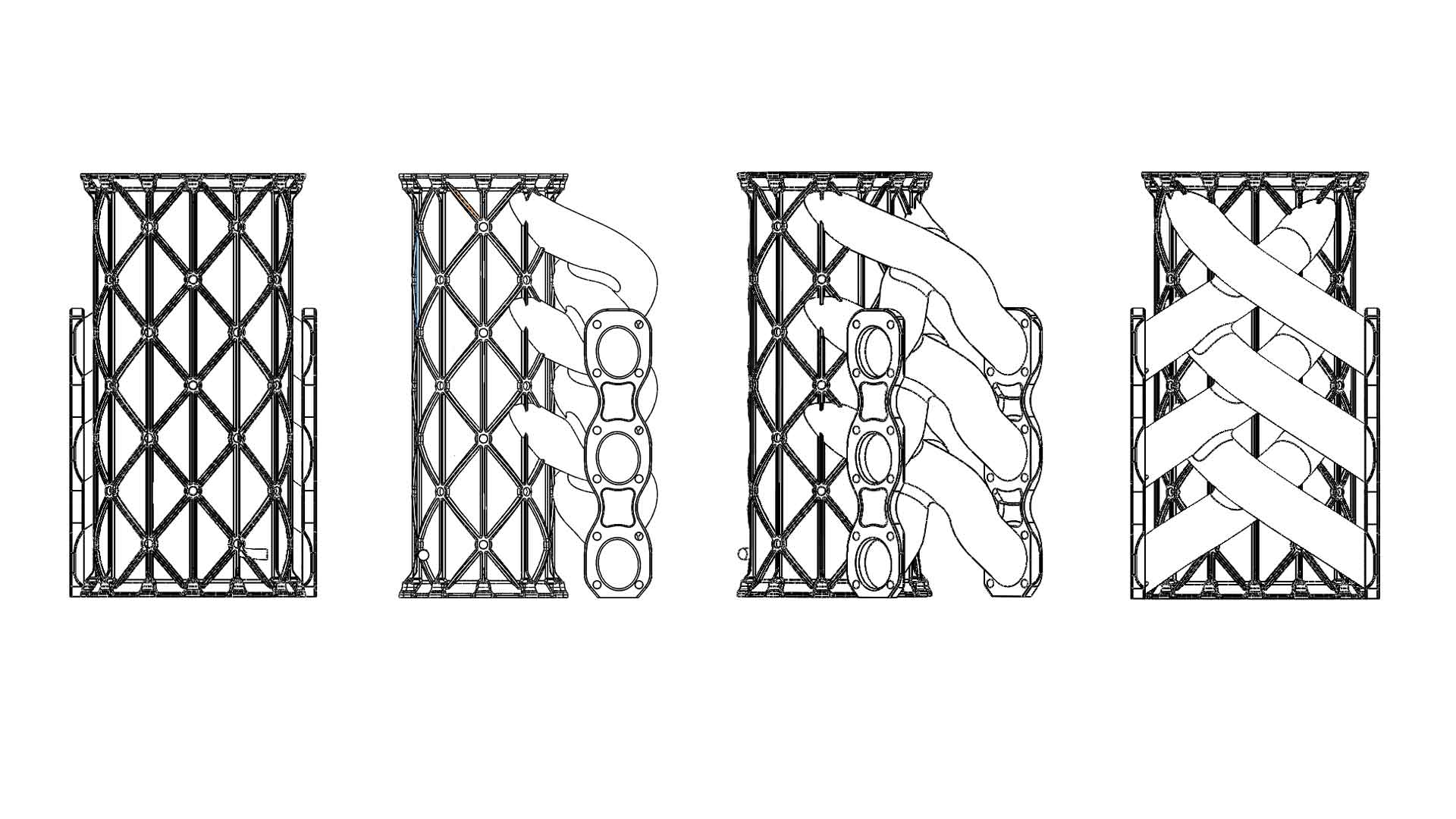 This air inlet is provided for the installation of a high-performance minimizing pressure drops, thus influencing the admissible air volume. At the filter outlet, there are intertwined pipes, which carry the air from the filter to the inlet of the combustion chamber. Adding threaded inserts functionalizes this intake manifold and makes it easier to fit the part to the existing system.
These inserts are hot-fitted, thus increasing the resistance of their integration into the part.
This part then groups together the following functions:
– Air filter support
– Airflow guidance
– Fixation on the existing engine block
– Maintaining the inlet seals (by two grooves at the front and rear of the air inlet)
– Support for the temperature and pressure sensors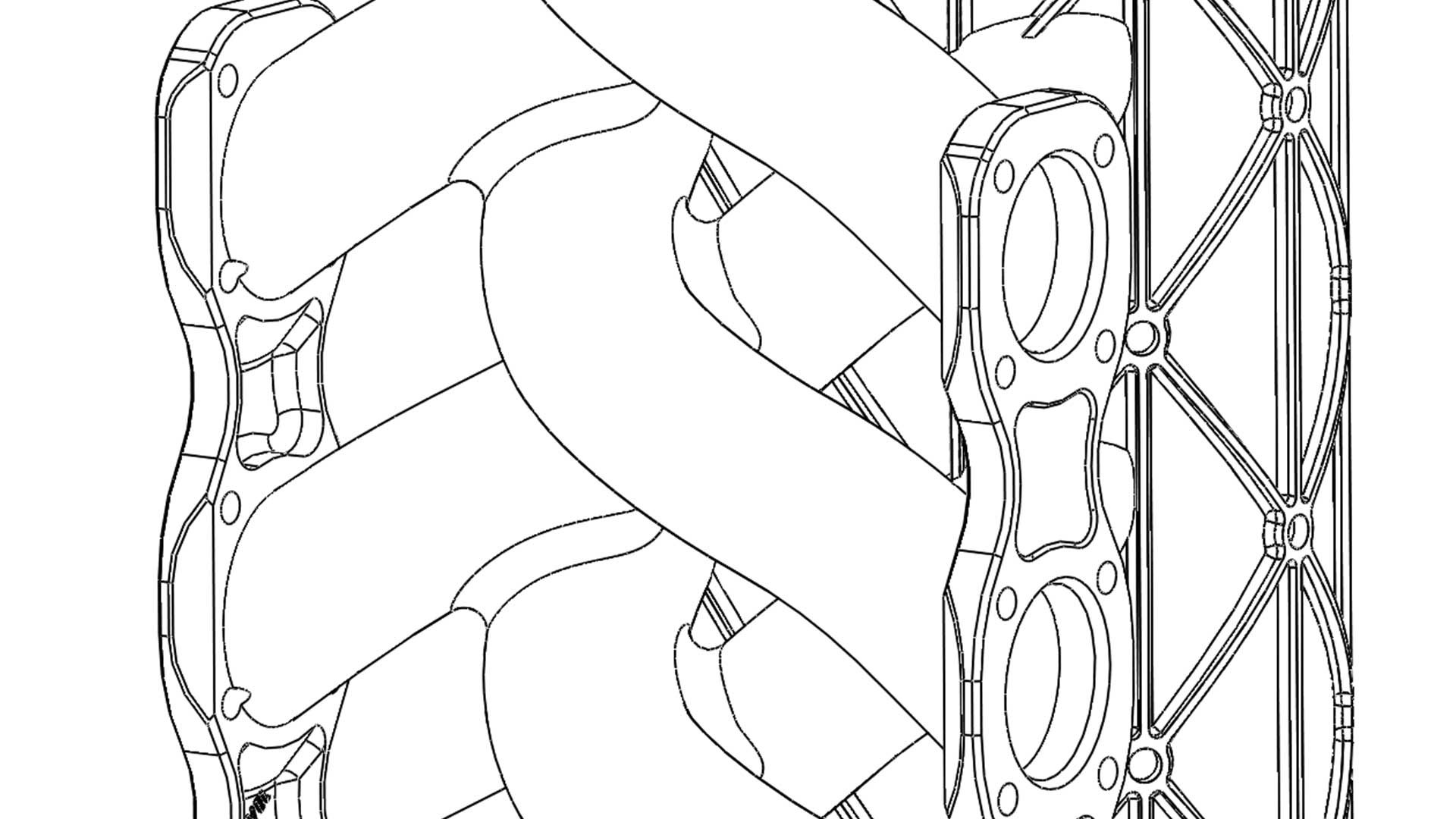 All this work was done on a 3D design software and then exported to a viable file for the printer: the STL. This optimization required about 40 hours of drawing.
Highly efficient, this manifold is used in the motorsport sector but with modifications it can also be applied to other fields such as railways, aeronautics, and space.
This complex structure is generally manufactured in 3 to 4 weeks by subtracting machining type materials, its weight is around 5 kilos. Despite its geometric difficulty, the FFF/MEX/EAM (FDM) printing process of the S600D makes it possible to produce this part in a single step of 120 hours and in one assembly, which naturally reduces a reduction in manufacturing costs by the absence of post-processing or tooling and production time.
Finally, the teams asked themselves what material would be the best to combine lightness, high mechanical strength, and temperature resistance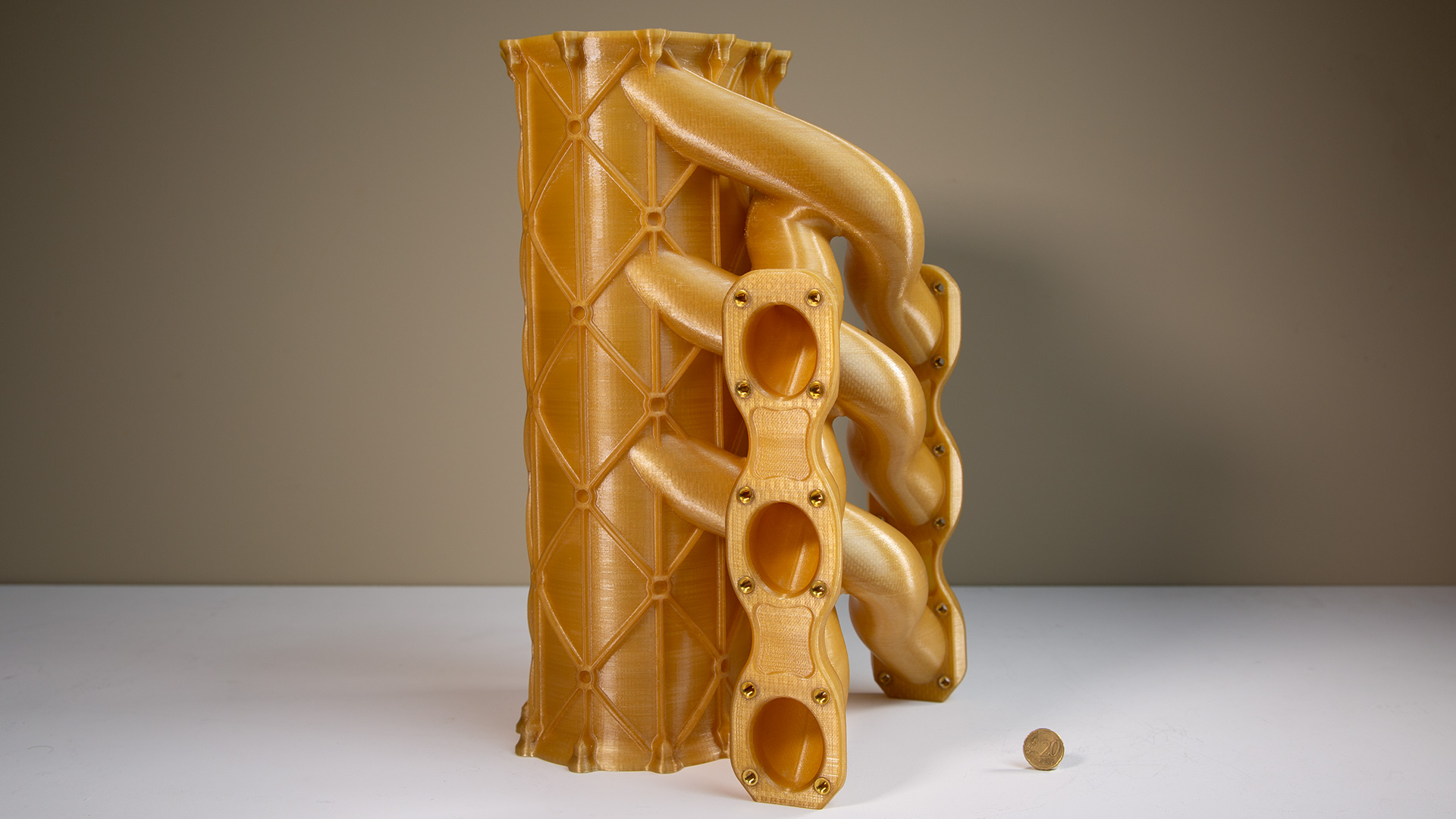 The choice of PEKK printing
Polyetherketoneketone otherwise called PEKK belongs to the PAEK family and is composed mainly of ketone and ether units. This combination allows PEKK to withstand high working temperatures, which makes it particularly suitable for industrial performance applications.
In addition to its high thermal resistance, PEKK is recognized for its dielectric stability, which allows it not to interfere with electrical currents and its non-flammable properties. All of this makes PEKK a key material for 3D printing projects that will accommodate extreme environments. (Aeronautics – Aerospace – Nuclear)
PEKK is therefore a reference material when it comes to producing high-performance parts in 3D FDM printing.
This is due to its high-temperature resistance (up to 170 degrees), its chemical resistance to hydrocarbons, organic solvents, and corrosive products, and also its mechanical resistance (traction and compression, shocks and impacts).
Compared to the metals that usually make up mechanical assemblies, this semi-crystalline thermoplastic is a major asset for machine lightening because of its strength-to-weight ratio. Naturally, the choice was PEKK, but under what conditions can PEKK be printed in additive manufacturing?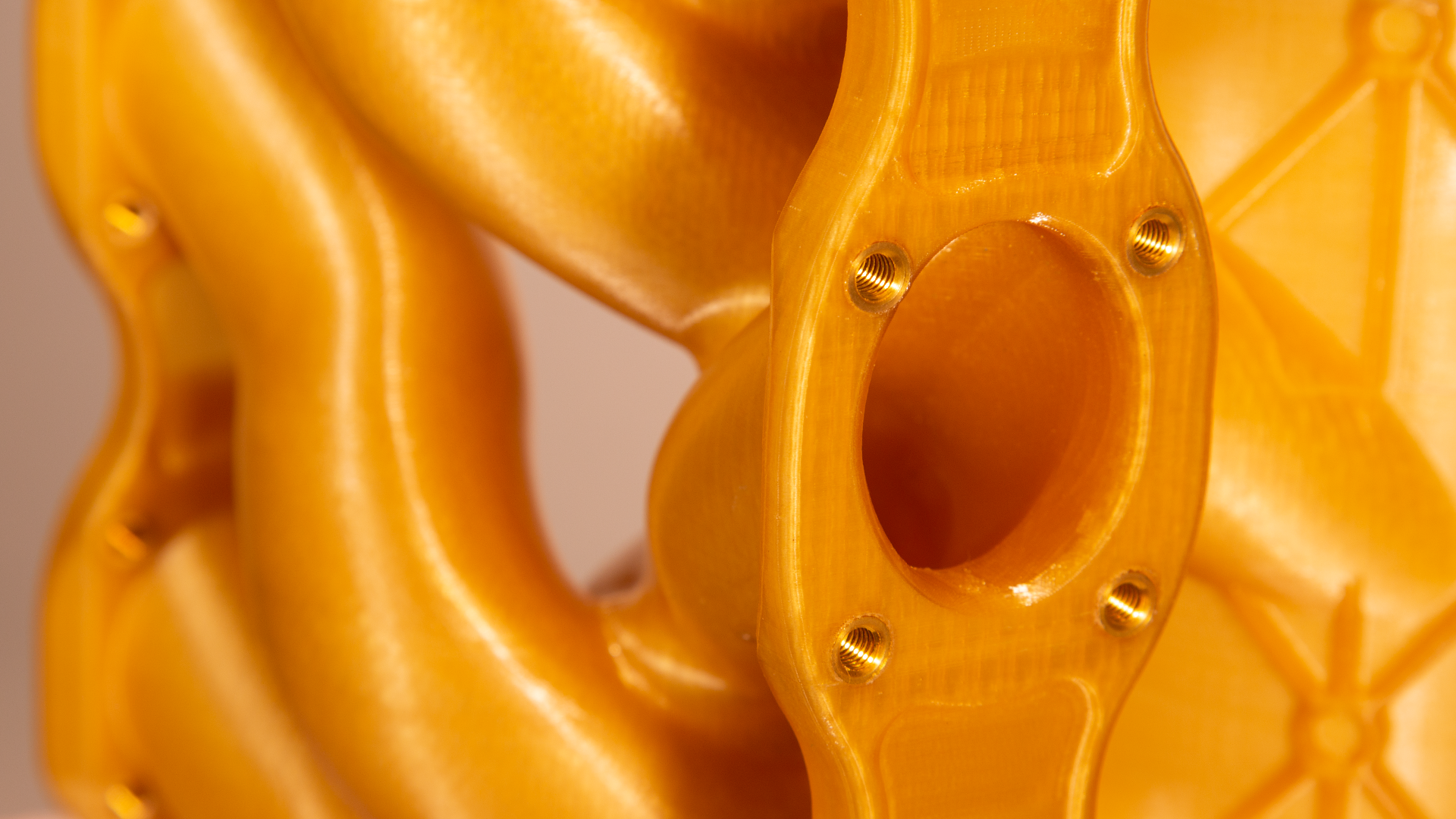 The extrusion temperature in between 340 and 365 degrees, PEKK printing must be done in an enclosed chamber, with a heated platen and with an extrusion nozzle that can withstand these temperatures.
Lynxter's S600D 3D printer is equipped with the FIL11 tool head that supports chamber temperatures of 70 degrees which meets the conditions for printing PEKK
To summarize:
3D PRINTINGFOUNDRY + MACHINING
TIME/td>
120h OR 5 dayss
3 to 4 weeks
WEIGHT
1,5kg with PEKK
About 5kg
COST
Materials
Machine use
4 weeks of production
Small series
Materials
PERFORMANCES
The overall performance of the part remains adapted to the initial specifications, with a notable gain in weight
Want to know more about this application? Feel free to contact us for more information.
3D printing conditions with the S600D
The heat exchanger was made of PEKK-3DXtech.
The intake manifold was printed according to the following measurements:
height: 400 mm – width: 240 mm – depth: 240 mm.
Despite its size, it requires only 65% of the printing height of the S600D.
The printing temperature is 365 °C, 170 °C for the plate and 70 °C for the chamber.
The high temperature nozzle is made of nickel-plated copper with a diameter of 0.4 mm.
The part was finalized in 120h with a printing speed of 50 mm/s.
Its weight is 1,5 kg. (vs 5kg in metal)