S600D

UNIVERSAL 3D PRINTER
The S600D is a one-of-a-kind 3D printer.
It's quick-change toolhead technology allows you to set up and print with the toolhead and nozzles of your choice in a matter of just minutes. And for a new print project in a different material, simply change the toolhead!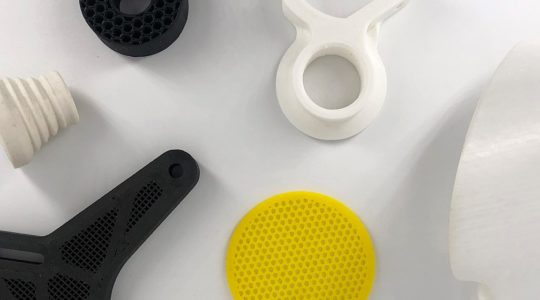 INCREASING REACTIVITY
Maintenance, urgent manufacturing needs, prototyping, small series production…
Additive manufacturing is a versatile asset in industrial production, ideal for maintenance, urgent needs, prototyping, and small series production. The S600D stands out from other machines due to its modularity, allowing you to print filaments, pastes, and liquids using a single machine.
With its open set up and closed printing chamber, this machine empowers you to print your own materials, making it a unique choice for printing a diverse range of materials.
Application Cases


PU, TPU, silicone, ceramic pastes, and technical filaments (PEKK, PA-CF, PETG).
Explore some application cases showcasing the versatility of the S600D in various materials.
Versatile technology

Multi-material, multi-process.
The S600D can print a wide range of materials using different processes: filaments (thermoplastics), liquids (silicones), pastes (ceramics) in high quality.

Limitless experience

Our technology is open. We share our 3d printing procedures and propose extensive online documention: our lab is yours. Print in one of our previously selected materials or experiment with new ones.

An evolving machine

The S600D 3D printer is constantly evolving with a growing list of new modules that can be added or changed. The S600D evolves as 3D printing progresses: its flexibility and modularity ensure its adaptation to tomorrow's technologies.

Optimal performance

Fitted with a filtration system and a heated enclosure, the S600D 3D printer supports high-temperature printing. With a large print volume of ⌀390mm x 600mm, the S600D offers high-performance print speed while ensuring a quality end product.

simple and accessible

The system is agile and practical for all users. With a comprehensive and straightforward integrated web interface, the S600D can be controlled remotely and independently (automatic calibration).

safe and reliable

Our professional 3D printer respects the health and safety of the user thanks to a closed and filtered printing environment (HEPA H14/active carbon).
SPECIFICATIONS
Technical specifications of the S600D professional 3D printer
Build volume

Ø390mm x 600mm

Removable toolhead

Quick connectors for electrical wiring and liquid cooling

Layer height

50μm to >1mm

X,Y,Z resolution

12.5μm, 12.5μm, 12.5μm

Max. toolhead moving speed

500mm/s

Build surface

Removable, hot-swappable, ground surface

Thermal environment

Heated build plate: 20°C to 180°C
Heated chamber: 20°C to 80°C
Water-cooled toolhead


Print job protection

Material runout detection


Health and safety

Removable dual HEPA H14
Activated carbon filtration
Lockable machine access


Control

Standalone touchscreen and web interface


Customizable firmware

Customizable Lynxter firmware (based on RepRap firmware) – Simplify3D Software (slicer).


Power

L230V AC 16A 50-60Hz


Dimensions

W 913 x D 851 x H 1644 mm

Learn more about the 3D printer S600D
Save valuable time and reduce your costs on all your projects. Explore the capabilities of the S600D with our expert teams